The data center is ever evolving and in the heart of many is the Cisco Nexus platform. This device series has many different opinions based on who you speak to. Birthed out of a secret project, the Nexus family hit the market with a modular OS, and focused on fast DC switching.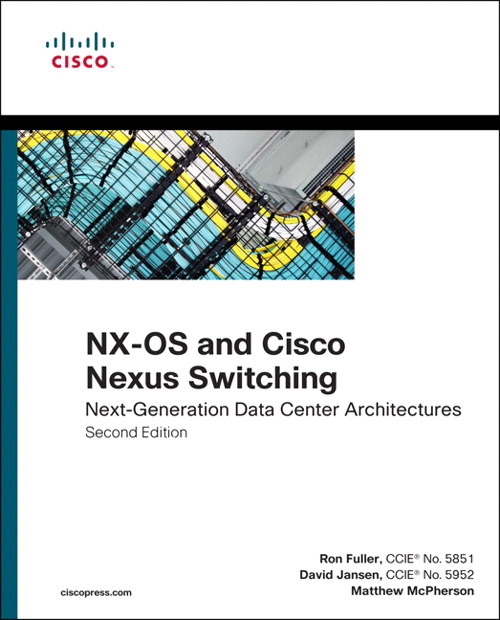 This book reviewed will be the subject of this post. Ron Fuller gave me an electronic copy of this book via Ciscopress.com. This was a gesture of good faith from an industry professional to another. No expectation of a blog was discussed let alone anything in return for this.
About the Book
Ron Fuller, Technical marketing engineer for the Nexus 7000, has gathered with fellow authors once again. Their unrivaled knowledge has been pooled and they have delivered the second edition of the ever popular NX-OS and Cisco Nexus Switching: Next-Generation Data Center Architectures.
Released by Cisco Press on the 18th of March this book is a 847 page whopper. Delivered in a variety of formats it will appeal to those with a physical or digital need. Cisco Press online allow for delivery in pdf, mobi, and epub formats. PDF is great for reading on my mac book whilst epub suits my train ride with my Nexus 7. The watermark is subtle with the note "From the Library of Anthony Burke" on each page down in the right hand corner. I like this minimal amount of watermark as I find some can be painful. A bonus too is that it is not a secure PDF or locked with LockLizard or something like that.
Book overview
The style of this book alternates between a technical recital and then an example. The tone used by the authors change a little between sections. Albeit I do not know who wrote each section you can determine a different author here and there. This is not a bad thing but I definitely preferred one sections writing style to another.
The style of the book plays well to my learning habits. I like the technical nature upfront then some configuration examples. This allows you to playt along at home. After the basics have been covered alternates and add ons are introduced. If you follow the flow of the book you can start out with nothing and end up with a very functional DC skill set. Each chapter builds on each one before it but if you have had exposure you can pick up any topic at any place.
The chapters I found most interesting we definitely OTV and LISP. The overlays were discussed in detail with references to external resources and strong implementation knowledge. I felt like I could go an apply an overlay with confidence. The LISP chapter also brought to the forefront the technology behind it and also how it is achieved. The use cases came very apparent after a re-read.
With virtualisation rife throughout DC's world-wide, network virtualisation is a hot word of CEO's lips. This book focuses a lot on how to unlock the Nexus platform's ability to accommodate multi-tenant data centers and hosted offerings.
The best addition was a case study at the end. This focused on an existing environment moving to the nexus platform. It outlined goals, the design, the migration plan, example outage windows and what occurred within each, and ended with ongoing windows and a summary. If you weren't a customer before hand, they definitely demonstrated the power that NX-OS can bring to your DC.
Rating
Overall this book follows up on the precedence the first set. A technically accurate book with clever and relevant examples serves as a good desk side reference for any DC engineer. I give this book a 8.5/10.
Thanks Ron, David, and Matthew.